Hello Stampers,
It's Border Buddy Saturday and it's Alison here today. 
I find myself needing more cards to let people know they are awesome, that I'm thinking of them or sadly, that I'm sorry for the loss of their loved one.
Sometimes when you look at a stamp set you form a limited idea for what it could be used for and then never consider it for other occasions.  Remarkable You has been this type of set for me.  When I looked at it  originally I thought flowers (happy, spring, summer, thank you, birthday) but now I can see it can be used for sympathy and wedding cards too.
Here is a beautiful card my sister, Ellie Blake, made using the Calla Lillies for a wedding card but it could easily be made into a sympathy card with a different sentiment.
This beautiful card was made by my friend, Colleen Vassos, and would work for a sympathy card or a card for someone special to let them know you were thinking of them. 
Lastly here's a card with no sentiment at all – so it's perfect for any occasion!
I hope these cards have inspired you to look "outside the obvious" and explore new ways to use your stamp sets!  I also hope they have encouraged you to reach out and mail a card to a friend "just because".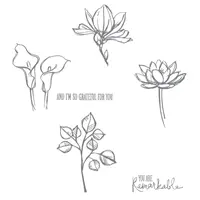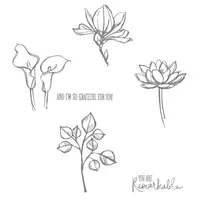 Want Stamps?
Click here to order from Alison in Canada       or click here to order from Patsy in the US